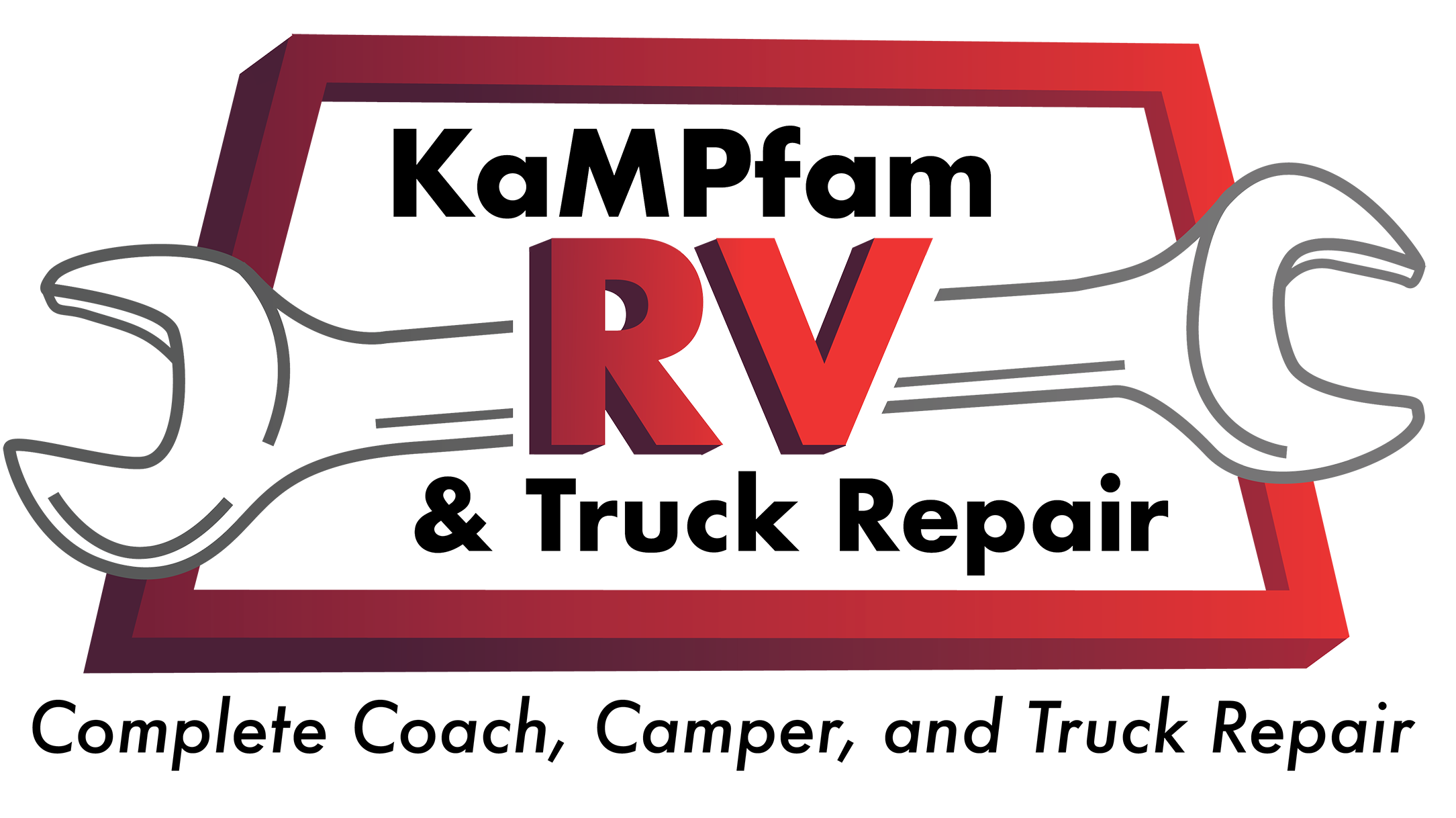 Trusted
by thousands of RV'ers for honesty & quality repairs for their RV's and trailers since 1999.
Are you tired of
fly by night mobile techs that don't show up or do poor work?

trusting your repair work to inept or dishonest dealers?

getting overcharged for the work that was done?

waiting to long for repairs to be completed?

repairs not done properly the first time?
We
have an excellent reputation in the area for quality and honesty.

have the lowest labor rate in the area.

service all brands of coaches, trailers and trucks.

work to turn out your repair in the quickest possible time.

have experienced technicians.

work with extended warranty companies.
You Will Get
repairs looked at and done in a timely manner.

an accurate quote for the repair(s), based on what we know at the time.

good communication during the repair process.

a fair and reasonable charge for the services.

quality work on the repairs done.

90 day warranty on parts and labor.

KaMPfam RV & Truck Service is a family owned business serving the greater DFW/FTW/Denton triangle with quality RV and truck repair.  We have been in business since 1999 and have an excellent reputation for quality service and repair.  We provide complete house and chassis repair at one facility, if it's on your RV, camper or truck, chances are good that we can service it.
What sets us apart from the competetion?  We really care about performing a quality repair for you as a customer.  You are not a just a job for us to complete, you are an individual for whom we strive to provide the best repair, service, and repair experience for your vehicle.
Our Mission:
KaMPfam RV & Truck Repair is a commitment to the highest quality of customer service & repair delivered with friendliness and individual pride, to provide the best in class repair for your RV or truck at a fair price and be the go to place for all your future repairs.
Our Employees:
KaMPfam RV & Truck Repair is committed to providing our employees with a stable work environment with equal opportunity for learning and personal growth.  Creativity and innovative thinking is encouraged for improving the quality and effectiveness of our services.  Above all, our employees are provided the same concern, respect, and caring attitude within the company that they are expected to share with every KaMPfam RV & Truck Repair customer.
We are manufacturer agnostic, if it's made, we can work on it.
We work with all manufacturers and models, unlike most dealers who only work on the models they are dealers for.   Each manufacturer does things a little differently so it keeps us on our toes to try and stay ahead of them.  However, there are basics that don't change and we start from there if unable to get information from the Mfg on how a system works.  We can figure out the source of the problem and resolve it.
Parts:
Obtaining parts is one of the most significant problems in getting an RV repaired.  There are a lot of different systems and parts on the average RV today.  Unfortunately the lifespan of an RV and it's component parts is limited; as such, what is used today in production may not be manufactured a year or more from now when the component actually breaks and needs service.  We have seen obsolent times of just 2 years on some items.  Most times, if we can't find an exact replacement, we can usually find suitable replacements.  If that fails, we can often manufacturer suitable items for replacements.  However, be aware that finding replacements if an item that is no longer available does take time and may not always be possible.  Additionally, manufacturers take their time to identify and ship replacement parts to us once identified and all we can do is wait on them.  We will always do the best we can to ensure you always have quality replacement parts for your unit.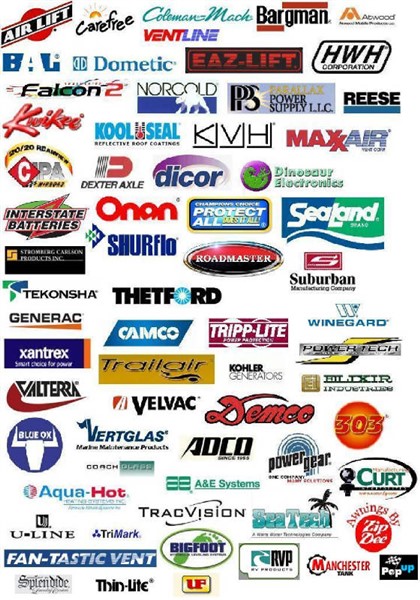 We are Authorized Dealers For:
On-Site Experts & Services
Our crew has many years of experience working on RV's, campers, trailers, and many other vehicles in general.  They work together as a team as well as individually, we pay straight time to our techs to allow them the necessary time to do the job right the first time, without taking shortcuts to beat the clock and perform a marginal repair.
Our Technicians take pride in their work and strive to do the job as quickly and efficiently as possible.  Our goal is to repair your unit as if it just came from the factory. You can trust us to do our best work on your rig.  Click the button below to find out more about our crew.
Why use KaMPfam RV & Truck Repair?
Gas or diesel, we can service or repair your RV & truck.
Your repair dollar goes further, our labor rate is $125.00 /hr, VS a standard rate of $150.00 /hr for other shops in the area.
We have a reputation for quality work and integrity.
We don't sell RV's, we only service and repair, our job is to fix your rig not upsell you into another vehicle.
We work with extended warranty companies & some manufacturer warranties.
Experienced technicians for repairing and servicing RV's and systems of all makes and models.
We have a 15,000 sq ft shop to work on your rig.
We have the right tools to do the job quickly and efficiently.
We service and repair both gas and diesel trucks and RV's at our facility, listed below are some of the reasons you should trust us with your rig:
At Kampfam RV & Truck Service your repair dollar goes further.

Our labor rate is $125.00 /hr, VS a standard rate of $150.00 /hr for other shops in the area.

Gas or diesel, we can service or repair your RV and truck.

We have a long standing reputation for quality work and treating our customers fairly.

Depending on parts availability, volume of work, and repair time, we can resolve your repair/service in a timely manner VS other shops that can take up to a month or longer to complete the work.

As an independent shop, we are vendor/brand agnostic, if you have a truck or RV, we can service and repair it.

We don't sell RV's, we only service and repair, this enables us to focus on you the customer and provide the best service we can for your vehicle.

We work with extended warranty companies and some manufacturer warranties.

We offer an industry standard warranty of 90 days for parts and labor on all of our work.

Our team of technicians have a combined experience of 45 years of repairing and servicing RV's of all makes and models and their various systems.

We have 15,000 sq ft of shop space to work on your RV or truck.

We have the right tools necessary to do the job quickly and efficiently.

We can do the state inspection on your vehicle.
We really mean it when we say we work on all types, makes and models and just about anything on them, below are some of the services we offer:
A/C & heat pumps including dash, roof top and basement units

Awning repair and replacement

Battery and cable issues

Electrical and plumbing troubleshooting & repair

Engine repair & replacement

Entry steps

Extended warranties and insurance claims welcomed

Factory authorized warranty repair for most appliances and accessories

Fluid flushes

Gasoline, LP and diesel generator service & repair

Gasoline & diesel engine repair

Hydralift motorcycle carriers

Leveling jacks

LP, diesel and electric furnaces

Power converters and inverters

Room slides

Radiator service

Refrigerator repair and replacement

Rubber roof repair and sealing

Service on gas and diesel engines

Standard & ABS Brakes diagnosis and repair

State Inspections on coaches, trailers, and trucks

Supplemental brake systems

Tow bars and base plates for vehicle towing

Transmission service

Water heater repair and replacement

Welding Services

Windshield and glass replacement
There really isn't any difference between and RV and a truck when you take the RV house off the chassis.  What that means is that we are expanding our service offerings to include Gas and Diesel trucks for service and repair.  This is a market segment that we feel could benefit from our services.  Our hourly rate remains the same regardless of the engine type.  We can service both gas and diesel trucks at our facility.  Following are some of the services we do on RV's that we can do for your truck: 
A/C & heat pumps including dash, roof top and basement units

Air brake troubleshooting, repair, & adjustment

Battery and cable issues

Clutches and clutch adjustments

Electrical troubleshooting & repair

Engine repair & replacement

Fluid flushes

Gasoline & diesel engine repair

Radiator service

Service on gas and diesel engines

Standard & ABS Brakes diagnosis and repair

State Inspections on trucks

Transmission service

Windshield and glass replacement
Food trucks are somewhat a somewhat specialized market and many shops don't like to work on them.  We don't have that issue.  Since they use many of the same systems that are used in an RV, we are very familiar with what is needed to repair and maintain these systems.  Additionally, we can do all the chassis work needed to keep them in top running condition.  We are a one stop shop to keep your food truck working in top condition and keep those burrito's rolling.
We offer a 2-hour inspection checklist in the event you are buying a pre-owned RV and want to have it checked out or are bringing one out of storage and want to make sure all your systems are in good shape.  We follow the checklist below and list any issues that we find on the back.  Let us make sure your vehicle is ready to use:
House Items
1.  Ck refrigerator  /indication /lights on LP:
2.  Ck water heater on AC and LP, /operation:
3.  Ck water pump, /runs /makes pressure /leaks:
4.  Ck plumbing system, /leaks on water pump /city water:
5.  Ck sinks, tub, inside/outside shower, etc /leaks /proper operation:
6.  Ck toilet, /leaks /operation:
7.  Ck power converter, /12v to coach /batt charge:
8.  Ck batt charge, (house and chassis) from eng alternator:
9.  Ck other appliances (TV, Microwave, etc), /operation:
10.  Ck generator, /runs /makes power:
11.  Ck Roof A/C's shore and gen /operation /noise:
12.  Ck furnace, operation /noise:
13.  Ck holding tanks, B,G,F, /visible leaks:
14.  Ck LP /obvious leaks:
15.  Ck roof & sealant, /condition /joints:
16.  Ck (roof vents, fans, skylight, TV antenna), /leaks /cracks /condition:
17.  Ck Awnings, /condition /operation:
18.  Ck Entry step, /operation /condition:
19.  Ck slideout rooms, /operation /noise /leaks:
20.  Note general conditon of house, /excellent /good /fair /poor:
General condition reason:
Chassis Items
1.  Ck engine, /starts /runs normally /leaks /oil level:
2.  Ck boost start works:
3.  Ck transmission, /shifting /leaks /noise /oil level:
4.  Ck driveline, /loosness /noise /rust:
5.  Ck brakes, /pad material /leaks /rotor condition:
6.  Ck cruise control, /proper operation:
7.  Ck dash A/C, /operation, /modes (vent, defrost, floor):
8.  Ck wipers, /condition /operation:
9.  Ck radio, /operation:
10.  Ck leveling jacks, /operation /leaks:
11.  Ck tires, /condition:
12.  Ck Lights, /lighting /operation /condition:
13.  Ck horn, /operation:
14.  Note general conditon of chassis, /excellent /good /fair /poor:
General condition reason:
All Services
We are a time and materials shop, we don't use flat rate and realize a better quality repair because of that.  Our job is not to get your rig out as fast as we can, but to do the job right, in a timely manner and at a fair price so it doesn't come back for the same problem.
To that end, we offer two pricing schemes, one is our normal hourly rate, the other is an expedited rate if you need your rig sooner than we can get to it at our normal schedule.  This doesn't mean that we already had time avilable, that means that you are jumping ahead of others already in queue, there is a cost to me for this and I have to pass that cost on for this "Jump to the head of the line" option.
Normal Rate
$125 /hr
Expedited Rate
$200 /hr
Oil Change
Due to the difference in cost of filters and oil volume on the different vehicles we service it is difficult to give a set price or solid cost breakdown unless we know the specifics of your vehicle.  A Ford V-10 6.8L takes about 7 quarts of oil, however; a large Cummins diesel can take 40 quarts of oil and has much larger and costlier filters.  We offer two oil service options (With and without a fuel system filter change), those times are set labor times.  Filters and oil are an additional cost to the labor times in the Rt column.
W/O Fuel filter change
$187 + materials
With Fuel filter change
Eng – $250 + materials
Gen – $156.25 + materials
State Inspections
Any State Inspection facility in the state of Texas is able to inspect an RV unit; however, most are unfamiliar enough with inspecting these units that they may tell you they can't do it.  We can do your Texas State Inspections here.  We know what is required and have the facilities and machines to get it done.
Fees set by the state of Texas, no appt necessary for an inspection, please have your insurance card available, we will need that.
$7.00 for Diesel/Trailer units
$25.50 for Gas units
Our Location
110 S Mayhill Rd, Denton TX 76208
Kampfam RV & Truck Service

We use these guys exclusively for all repairs and maintenance of our RV's. My wife and I own an RV rental business, so having things done right the first time is extremely important. Kampfam RV Repair has never let us down. Great prices and friendly people!

Positive:
Professionalism
,
Punctuality
,
Quality
,
Value
We are full time RVrs and the fan motor went out on one of my AC units Friday afternoon. Called them on Monday and they were able to get me what I needed to get my AC working again. Very professional and knowledgeable staff. I highly recommend them.
Brands & Mfrs We Use and Work With
Helpful Comparison & Maintenance Information
Gas vs Diesel Maintenance Considerations

Gas Unit

Diesel Unit

Generally less expensive to maintain – parts are more commonly available at national auto stores and less expensive; additionally, the hourly rates for technicians are lower.
Generally more expensive to maintain – Parts are usually only available at diesel shops or chassis dealers and command a higher price; additionally, technicians usually command a higher rate for the work.
Almost any shop that can work on light trucks can work on the chassis side of a gas RV.
Chassis or engine work usually requires locating a Cummins, Freightliner, or an independent knowledgeable shop to work on them.  There are plenty available but not nearly as many as Ford or GM service centers.
Repair are generally quicker and there is a greater parts availability nationally.
Diesel engine work is pretty much off limits to any but certified technicians.
Gas engines have a shorter service interval which means more freqjuent oil changes, the plus is that you can most likely do much of this yourself.
Diesel engines can be driven longer times and further distances between service intervals which gives you more time on the road.
You can take advantage of typical oil change pricing at the local oil and lube shop if they can fit your RV in the shop.
Diesel engines generally use about 3 times more oil than a gasoline engine; additionally, the oil filter is much larger and consequently more costly.
Generally more repair costs in the long run due the nature of the gas engine working at higher RPM's and the other systems associated with a gas engine.
There are usually two fuel filters, (filter & water seperator), that are generally changed every other oil change, these are also more costly.
Maintenance Intervals

Below are general guidelines for maintenance intervals for Gas and Diesel units, if there is any ambiguity, please consult your owners manual for a definitive interval.

 

Gas Unit

Diesel Unit

Engine Oil/Filter
6 months/7,500 miles
12 months / 15,000 miles
6 months/5,000 when towing
Transmission Oil
60,000 miles
4 years / 150,000 miles
Transmission Filter
60,000 miles
2 years / 50,000 miles
Engine Coolant
6 years / 105,000 miles
2 years / 60,000 miles
Air Filter
30,000 miles
Air Filter Indicator
Spark Plugs
97,500 miles
N/A
Fuel Filter
No service required
With Every Oil Change
Particulate Filter
N/A
Regenerate (Clean) every 200,000 miles
DEF Filter
N/A
Replace every 200,000 miles
If you've ever plugged your 50 or 30 amp cord into an outlet in the Texas summer with your A/C running and coffee brewing and maybe something toasting in the microwave or toaster and pop a breaker, you might want to consider the load your systems are placing on the main breaker.  Most 30 amp services are not designed to run everything in your coach or trailer at the same time. If you find this happening, you might want to go down the following chart and see what your average amp draw is for the systems you are running.  This might help you track down where the power is going and ways to work around it.  Another thing to keep in mind is that many appliances require more amps to start than what they use once running.  An standard roof A/C will draw near 16 amps to start yet only use around 13 to stay running.
120 Volt AC Amp Ratings

Appliance or Electronic Equipment

Estimated Amps

Air Conditioner (multiply by the number of A/C units)

12-16 Amps

Blender

5-6 Amps

Coffee Maker

5-8 Amps

CD Player

1 Amp

Computer (Laptop)

2-3 Amps

Converter

1-8 Amps

Crock Pot

1-2 Amps

Curling Iron

<1 Amp

Drill

2-6 Amps

Electric Blanket

0.5-1.5 Amps

Electric Fan

1 Amp

Electric Water Heater

9-13 Amps

Electric Skillet

6-12 Amps

Hair Dryer

5-12 Amps

Iron

5-10 Amps

Light (60 watt @ 120V)

<1 Amp

Microwave

8-13 Amps

Microwave (Convection Oven)

13 Amps

Refrigerator in AC mode

5-8 Amps

Space Heater

8-13 Amps

Television

1.5-4 Amps

Toaster

7-10 Amps

Vacuum (handheld)

2-6 Amps

VCR

1-2 Amps

Washer/Dryer

14-16Amps

 

12 Volt DC Amp Ratings

Appliance or Accessory

Estimated Amps

Aisle Light

1 Amp

CO Detector

1 Amp

Fluorescent Light

1-2 Amps

Furnace

10-12 Amps

LP Gas Leak Detector

1 Amp

Overhead lights (Per Bulb)

1 Amp

Porch Light

1 Amp

Power Roof Vent

1.5 Amps

Radio/Stereo

4 Amps

Range Hood (Fan & Light)

2-3 Amps

Refrigerator (LP Gas Mode)

1.5- 2 Amps

Security System

1 Amp

Television (12 volt)

4-5 Amps

TV Antenna Booster

<1 Amp

TV Antenna Booster 12 Volt outlet

Up to 8 Amps

Variable Speed Ceiling / Vent Fan

4 Amps

VCR

2 Amps

Water Pump

4 Amp
Your coach or trailer batteries are one of the most important and usually one of the most neglected parts of your rig.  As long as they hold a charge they are usually not given much thought as to maintenance.  Most RV's use a deep cycle battery often used in marine or golf cart applications, these batteries are designed to maintain a steady drain for a longer time than standard batteries.  It is a fact that about 80% of all electrical issues can be traced back to low voltage due to the batteries being under charged or not having a proper charge maintained.  A properly maintained lead acid battery will last about 5 years; conversely, if they aren't maintained well they will not last even that long.  A gel cell or AGM battery can last up to 7 years if maintained properly but these are usually considerably more expensive.  Following are some maintenance tips that will help you maintain your batteries and get the most out of them.
Know the Discharge – RV batteries should not be discharged over 50%, these are not lithium ion batteries like your phone or computer that can develop a memory and need to be discharged completely.  These batteries don't develop a memory and will be damaged if they go lower than 20%, if this happens, they will never function at 100% again.  If you hit the 50% mark, you should get them charging right away.
Cleanliness – Keep the terminals clean and corrosion free.  Corrosion will deteriorate the copper and lead ends and limit the amount of electricity that can flow from the battery to the coach.  In addition to the terminals, keep the top of the batteries clean, dirt, oil, and other residue will collect on top of the batteries.  If proper conditions exist, this can cause voltage to pass from post to post through the debris on top of the batteries which will cause a discharge condition.  Keeping your battery tops clean is the easiest way to prevent this from happening.
Water Level – Maintain the water level in your battery at all times.  If the water level goes below the plates in the cell that will be the end of the battery.  While it's true it may last a little while longer that cell has been damaged and is now compromised, it's just a matter of time before that battery will decline and short out or refuse to hold a charge.
Changing – Batteries should be changed out as a group, when one battery goes bad, it can cause the others to go bad.  Most people don't like this idea due to the initial expense; however, if you consider the cost of changing a battery every few months or worse yet breaking down on a trip, changing them all at the same time outweighs the cost of an expensive service call or the time to continually change them.
Parasite Power – RV's have several systems that draw parasite power from a battery when nothing is being used.  The keyless entry system and the back lit light switch panels in the higher end coaches are always drawing power.  Some coaches keep the drivers seat control energized when the key is off, this will also draw power.  When you don't intend to use your RV for an extended period of time it is always wise to turn off the disconnects for the chassis and house.
Temperature – Extreme hot and cold weather can kill off a weak or compromised battery.  We do a lot of battery changes in the spring after the winter freezes and in the middle of summer.  The "water" in your battery is sulfuric acid which is composed of water.  A charged battery will not freeze.  If your RV is in storage you should check on the battery charge every month or so.  Don't count on it being plugged in to keep the battery charged.
Get the right Converter – Most RV'ers count on their converters to keep their batteries charged, for that reason they keep the rig plugged in while in storage.  However, unless you have a 3-stage converter installed in your rig, you are overcharging or undercharging your batteries and shortening their lives.  Most RV converters are single stage converters from the factory, they are simply cheaper and help keep the sale price down.  A single stage converter is designed to charge at full blast or not at all, this type of converter will not bring your battery up to a full charge and you run the danger of overcharging the battery.  Overcharging a battery will cause it to get hot and boil off the water in the cells.  Undercharging the battery will not bring it up to full charge and keep it in an undercharged state which can cause it to freeze.  Consider upgrading to a 3-stage converter, this type of converter will bring the battery up to charge, then shift to a less aggressive stage, as the battery continues to charge to it's maximum, it will shift to a trickle charge to top them off and keep them topped off.
When we have RV's come in with electrical issues or slide rooms not working correctly, the first thing we do is charge the batteries. In about 80% of the cases we find that a low battery charge is the root cause of the problem.  Changing batteries is an expensive proposition, for that reason, it just makes sense to maintain them properly and get the most out of them that you can.  Following the tips above will help you maximize your battery life in your RV.
Full Service RV & Truck Shop
90 Day Parts and Labor Guarantee