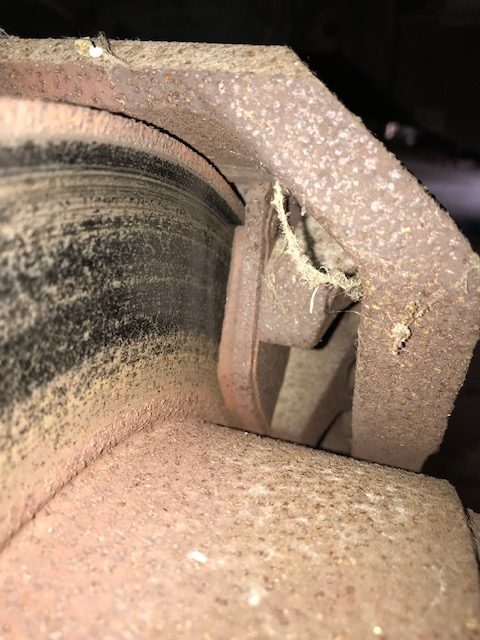 Worn Front Brakes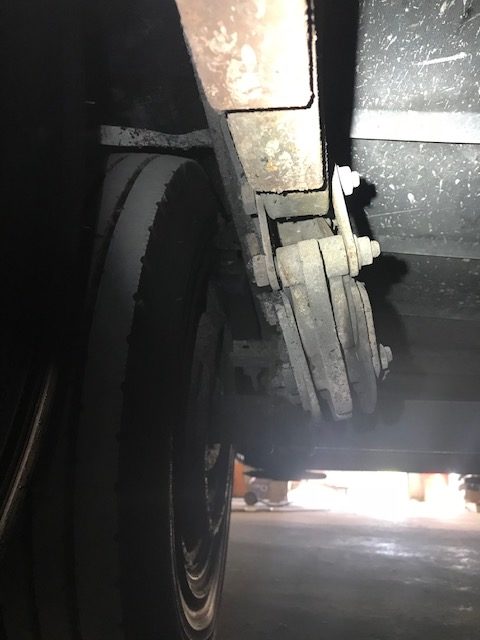 Bent Spring Shackle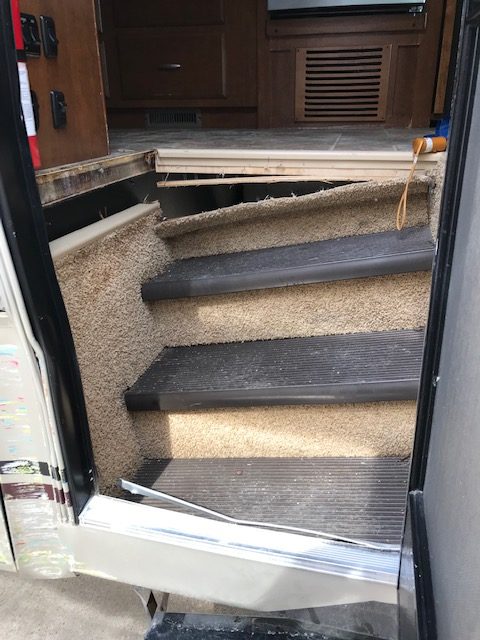 Stairstep Damage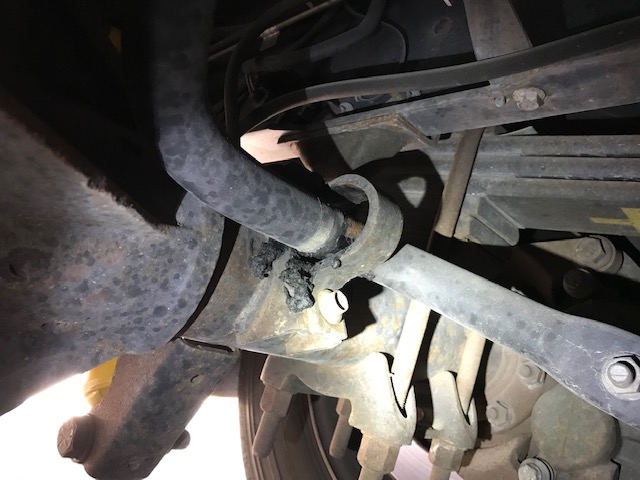 Missing Swaybar Bushing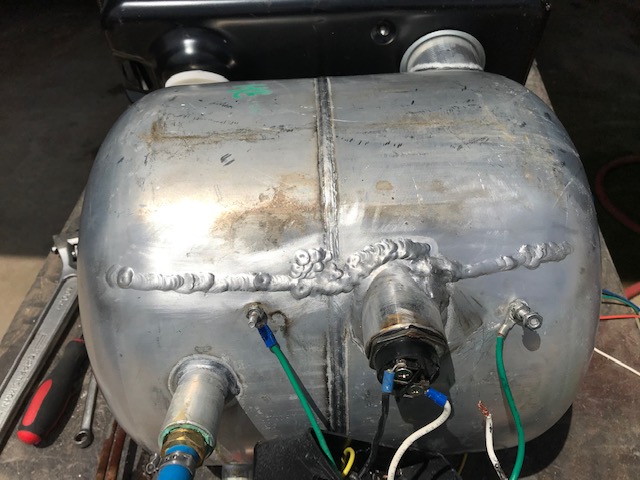 Water Heater Damage & Repair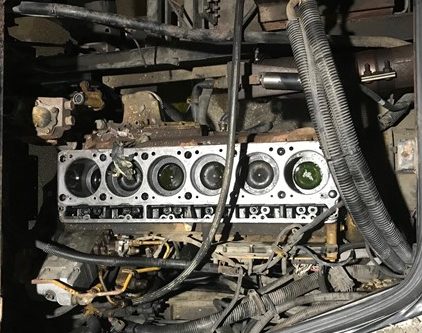 Caterpillar Head Replace
A/C and heat pump problems for dash and roof top units

Air brake adjustment

Awning repair and replacement fabric

Battery, cable, and charging problems

Brake system fluid changes

Chassis lubrication services

Cooling system flushes

Electrical and plumbing troubleshooting & repair

Engine Tuneups

Entry step problems

Brake system fluid flushes

Fuel pump and related problems

Furnace repair and service

Gasoline & diesel engine service and repair

Generator repair and service

Hose replacements for coolant & hydraulic

Leveling jack problems

Power converter and inverter problems
Pre-purchase and after purchase inspections

Radiator services

Refrigerator repair and replacement

Rig and trailer axle problems

Roof preventative maintenance services

RV chassis repair, service, and enhancement

Standard & ABS brakes diagnosis and repair

State Inspections on coaches, trailers, and trucks (Non-Commercial)

Supplemental braking systems

Suspension enhancements, Sumo Springs, Sway & Trac bars

Tow bars and base plates for vehicle towing

Transmission fluid flushes

Water heater repair and replacement

Welding services and repair

Windshield and flat glass repair/replacement

Winterization and de-winterization

Workhorse chassis and AutoPark Systems

We were in Elgin Texas half way through a six week road trip in our 1994 Winnebago when the engine blew up. We had the engine replaced and headed north. We only made it 200 miles when we started having trouble. It was dark so we pulled into the next rest area. At 8:00 a.m., after searching the web, we called Kampfam RV and Truck Service. That was the best decision ever made. After explaining the situation they had us come in immediately. Even though they had numerous RV's waiting for service, they took the time to assess our RV and had a solution for us within a few hours. The previous repair shop had use wrong parts and left some parts of the new engine completely off. They showed us all the defective parts and poor workmanship, and offered to put us first in line for repairs as soon as all parts were received. The team at Kampfam were knowledgeable, efficient, and extremely kind. We sort of felt like family before it was all over. And the price was extremely reasonable. They could of really gouged us since we were 2000 miles from home and knew very little about the area we were in. Thank you Kampfam for your professionalism and great customer service.
Cynthia Rayburn-Smith

I just recently purchased a one owner, very clean 2016 Heartland Bighorn 5th wheel RV. This is our 6th RV over 20 years of ownership so dealing with RV technicians is not new for me. I wanted to add a new Onan generator to our Bighorn and this is no small job. I shopped around for almost 2 weeks to find who I would trust with my RV and this installation at a fair price and I selected Kampfam Rv and Truck Service and so glad that I did. I went as far to drive over to meet them at their facility to see if this is a place I felt I could do business with and after visiting with the owner Kevin and one of his staff members Austin, I could tell pretty quickly that were genuine good people and wanted to earn my business and that they did. Kevin, Austin and Andy along with the entire staff did not disappoint. In fact, they exceeded my expectations in that they communicated with me when they had a question or concern during the installation of my new generator and in this day in time that is refreshing and for that reason, I gave them 5 stars. This was a big job that included some custom fitting and fabrication work to make my addition to my RV a reality. It was finished on time at a fair price and the installation looked like it had been performed at the factory. I could not be happier with Kevin and his staff and they have earned my business going forward and have my highest recommendation. Thank you Kevin, Andy and Austin for a job well done! I look forward to doing business with you in the future when I have the need!
Max Lambert

Kevin was very helpful. I had a few questions regarding maintenance for our fifth wheel and Kevin couldn't have been more informative & honest. He didn't pressure or hurry me into making any fixes and gave me honest feedback regarding what for and how often I should bring my trailer in to the shop for service. I will definitely be bringing my trailer in to KaMPfam RV & Truck Service the next time it needs fixing or maintenance.
Bryce Mooney

Besides doing great work .. Their customer service is excellent. Though no fault of theirs…. They took what could have been a bad experience into a good one resulting in a loyal customer. Though they did not have to, they took care of my issue. Thanks!
Jim Roche

Took my Fifthwheel in for my bedroom slide, was not working, no power. Called me back two days later ready for pickup.  Wonderful professional service, price was good and will most definately use again in the future.  Thank-You
Vincent King

It's rare these days to find a business with integrity & broad knowledge of their trade…but this is one of them. Kevin , Austin, Chris and other techs in passing were warm, friendly and welcoming. Actually the owner did most of the work on my RV and was thorough and informative. He trotted me into the work area to show & explain his findings and options. NO he wasn't trying to sell me up, just show & explain the remedy for reasons I came. I made an appt so on arrival they took my RV right in and went to work immediately. Repairs were made to my satisfaction and charges were fair for services. I have had some horrible experiences with RV Repair shops…but you feel completely different I'mediately on arrival at Kampfam Denton TX. We need more businesses like this one.
Jim Moncrief

I have been going to Kampfam for 3 years for all my maintenance and repairs. One time they were booked for several weeks so I tried a major dealer. They weren't taking new customers and even they recommended I take my RV to Kampfam. Repairs are always dependable, very fairly priced and when doing routine maintenance they do not go down the road of suggesting repairs you do not need. The owner, Kevin, is knowledgeable and certainly trustworthy. They are staffed with experienced and helpful technicians as well.
Larry A

I had some issues with my transmission back in March They got me and and out . I left on a trip in on 22nd of June got a few hundred miles away , I had another issue . I called and talked to Kevin and sent some pictures. He was able to tell me how to fix my problem , I was good as new in just a few minutes. Great customer service and professionalism. I will definitely bring my Motorhome back to them. I highly recommend them.
Scott Smith

Hands down THE BEST R.V. service in North Texas. Kevin and Austin were very professional courteous and just darn good Folks. If you want your R.V. done proper and at the highest level. Then take yours there.
Keeper of the Plains Band

We were in the Dallas area visiting family as part of a cross country trip. During a rainstorm we learned of a fairly significant roof issue on our Lance Travel Trailer. We found Kampfam in Denton and could not have been happier. Though they were busy, they said if we would bring it by they would see what they could do. We had called a few other shops previously that were closer to where we were and their response was, we are scheduling 3 weeks out and would not even consider working us in.
Austin and his tech were great. They inspected the unit and discovered the roof membrane was not installed correctly at the factory. His tech did a temporary fix to allow us to return home (1,000+ miles). We were on the road home within 40 minutes. It is quite apparent that this shop is highly capable, professional, knowledgeable, and values their customers. I would highly recommend this shop for any service work.
Brad Foust

Passing through DFW from FL to AZ had problem with tow braking system. Called Kampfam first because I have learned what happens when you call the larger sales oriented repair facilities. First talked to service then was called back by the owner Kevin .He called manufacturer and got the tech info needed and called back immediately. Phenomenal service! Too bad they do not service South Florida. This kind of quality service is rare.
John Hirst

Kampfam Rv repair has a professional team of experts!! Called with question concerning my Rv and Kevin at kampfam Rv repair was happy to help. Took the time out of his busy schedule to walk me through step by step and trouble shoot every possible problem. Thanks again to the experts at kampfam 10/10 would recommend to everyone
 CRUZITO

Top shelf service, got my motorhome fixed and us back on the road by giving the extra effort that is rarely found these days. The customer comes first is alive and well at Kampfan. Thanks for the awesome service.
Denis Hunsinger

We use these guys exclusively for all repairs and maintenance of our RV's. My wife and I own an RV rental business, so having things done right the first time is extremely important. Kampfam/Danny's Services has never let us down. Great prices and friendly people!
Clint Clark

I didn't have any service physically done at this place, but the receptionist told Kevin I was having brake issues and in 5 seconds he was in the phone talking with me and stayed on the phone with me for 20 minutes explaining everything in clear detail. I called back two days later asking him a simple question about my generator and he was glad to help me out again. This guy is awesome. I can imagine any work done here is top of the line. Thank you sir!
GoodMoodFoodDude

This is the best RV repair shop I have ever taken my RV to. They are honest and fair and timely with what they tell you. Kevin has saved my bacon many a time when I have had a must need before traveling. Last time I was on the road my starter went out so I had to call a mobile mechanic and get a new one and get it replaced. When I came back home and needed to do other maintenance to the RV Kevin was underneath it and noticed that the starter bolts were loose or it could've been disastrous before I traveled. He knows his stuff and is so knowledgeable and honest. Highly, highly recommend them.
Ron G

I highly recommend Kampfam RV and Truck Service in Denton. I'm a new 5th wheel owner, and Kevin & Austin have bent over backwards to help me get be successful. Their service is prompt and thorough. Their prices are fair. And most importantly, they genuinely care about their customers.
Jeff W

This is one of the few honest companies in existence in north Texas.
They are honest and do a great job – no games played by these guys. many of their customers use them in place of the RV store where they bought their trailer/coach from.
OJ B.

This is THE place to take your motorhome. They are a small crew, but very knowledgeable. They do not double bill for hours and are very honest with pricing and work. I live in NC and try to wait until I come through Texas to have maintenance done on my Winnebago. They fix it right the first time.
Picture M
Full Service RV & Truck Shop
90 Day Parts and Labor Guarantee
Call us Today
940.591.9100